Nittaku Flyatt Soft Test Review
Nittaku is a Japanese brand that has been producing high-quality table tennis equipment since 1952 and are especially known for their outstanding quality of their table tennis balls. They are one of the most respected brands in the table tennis industry, known for their quality, durability, and reliability. The company has gained immense popularity in Japan due to its premium products and excellent reputation while in Europe, and North America their products are usually played less as other local brands like Tibhar or Andro are more popular. In addition, the industry top leader Butterfly dominates the market in general while newcomers like Korea-based company Xiom attract more and more players with their products.
However, Nittaku has been a staple in the table tennis community for many years and still is a major sponsor of various professional players, including Japan national players Mima Ito and Hina Hayata. Nittaku is also one of the few brands that manufacture their equipment in Japan, ensuring that the products meet the highest quality standards. A few exceptions include the Nittaku Fastarc series which is produced at ESN in Germany. The Nittaku Flyatt series however is produced in Japan.
Nittaku Flyatt Series
In 2012, Nittaku introduced the Flyatt series of table tennis rubbers, which includes the Flyatt Spin, Flyatt Hard, and Flyatt Soft and has been a best-seller ever since in Japan being far up in sales rankings. The Flyatt series was developed to provide players with a range of options to suit their playing styles and skill levels. Each rubber in the series has unique characteristics that cater to different playing styles. The Flyatt Soft rubber, in particular, is a great option for intermediate players who are looking for a rubber that provides great control. Find out in the test review below if this rubber is for you!
Intermediate Level
Nittaku Flyatt Soft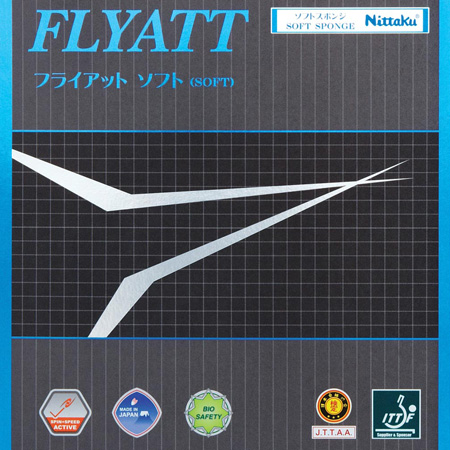 Sponge
The sponge of the Flyatt Soft is... well soft. On the JPN scale it is rated at 30° hardness which is similar to about 37-40° on the ESN scale. When the ball is touched gently, especially in the short game, then it does bounce off quite fast. This might need some adjustment at the beginning when trying this rubber for the first time. However, when playing further away from the table, the sponge of the Flyatt Soft does lack power and therefore it can be quite difficult to generate speed on hard, attacking strokes. Certainly, the strong side of this rubber is when opening up with topspin against underspin balls. The soft sponge helps to lift the ball so that especially players who struggle with this technique might benefit from Flyatt Soft.
Topsheet
The topsheet of Flyatt Soft is not that grippy when compared to other products like Nittaku Factive or Fastarc series but in general it is still grippy enough for most players. This can be a downside if your top goal is to generate as much spin as possible but on the other hand, less grip also means that your strokes are less sensitive against incoming spin. So, if you are struggling with extremely spinny serves of your opponent, Flyatt Soft might be an option for you.
Playing characteristics
In our test review, we found out that Flyatt Soft immediately helps to create confidence with playing topspin loop as it is quite forgiving when it comes to player mistakes (like most soft rubbers do). It might not be the fastest rubber in the world but it does offer great control especially when playing close to the table. We did notice that it does make a very loud sound when played, which is typical for softer sponges. Some players like this sound, others don't. You will have to find out for your self if this is for you or not. In our opinion, the Nittaku Flyatt Soft rubber is best played on the backhand side as the soft sponge helps to lift heavy underspin balls as this is usually a weak point for many players. For the forehand, we do recommend to use a faster rubber because most players are forehand dominand and therefore require more speed and power. If you want to stay in the Flyatt family, have a look at Flyatt Spin or Flyatt Hard. Alternative great options for the forehand are Nittaku Fastarc series or Nittaku Factive. Options from other brands include Butterfly Rozena and Yasaka Rakza 7. All rubbers mentioned are in the price range between $40 to $50 USD.
Blade recommendation
You can play Flyatt Soft either on an all-wood blade or something carbon-based. Keep in mind though that using an all-wood blade means that you will have more feel and control with Flyatt Soft but you will lack power and speed in the mid- to long range game. If you need additional power, then we do recommend to use a carbon-based blade to compensate. The following blades are recommended in combination with Flyatt Soft:
Yasaka Sweden Extra
All-wood, great control, outstanding value at $35.


Yasaka Ma Lin Carbon
Fast, but not too fast. Great balance. $50.


Nittaku Flyatt Carbon Pro Off
Very fast, great build quality. $75.


For additional information about these blades, see our article about best budget blades for table tennis.
Conclusion
In conclusion, the Nittaku Flyatt Soft is a decent table tennis rubber that provides great touch when playing close to the table. The soft sponge allows for better ball control and makes it easier to execute precise shots when playing topspin against heavy underspin. Although it is not as fast as other rubbers, it is a good choice for beginner and intermediate level players who need support on their backhand topspin. When combined with the right blade, the Flyatt Soft can be a valuable asset especially for developing players.
If you are looking for other soft alternatives, there is also the Yasaka Rakza 7 Soft. Check out our article here for more information.