Review: Nittaku Flyatt Carbon Table Tennis Blade Test
Here is the problem with carbon: If it is being used in a table tennis blade, then the result usually is that the whole thing becomes stiffer and harder. The consequence is more speed but also less control. The shift towards carbon-based products however was necessary after the introduction of the plastic ball which is simply slower when traveling through air compared to its older celluloid-based predecessor. However, many players still seem to hesitate when upgrading to a carbon blade because they're uncertain if they'd be able to control such a fast blade. Especially those players who maybe started table tennis as a kid but now want to come back to the game are confronted with the question: Stick with your old 5-ply all-wood blade or upgrade to carbon? Now, there is nothing wrong with an all-wood blade. In fact, these are great for beginner players as they are so soft and therefore offer great control. However, while advancing in your skill level, you will notice that very often it is crucial to play a really hard and fast stroke. This can be a problem when an all-wood blade hits the plastic ball. The acceleration is simply not there and therefore the ball doesn't travel as fast as it could. In order to solve this problem, Nittaku has created the Flyatt Carbon table tennis blade in order to give players an opportunity to try out a carbon blade without compromising too much on control.
Intermediate Level
Nittaku Flyatt Carbon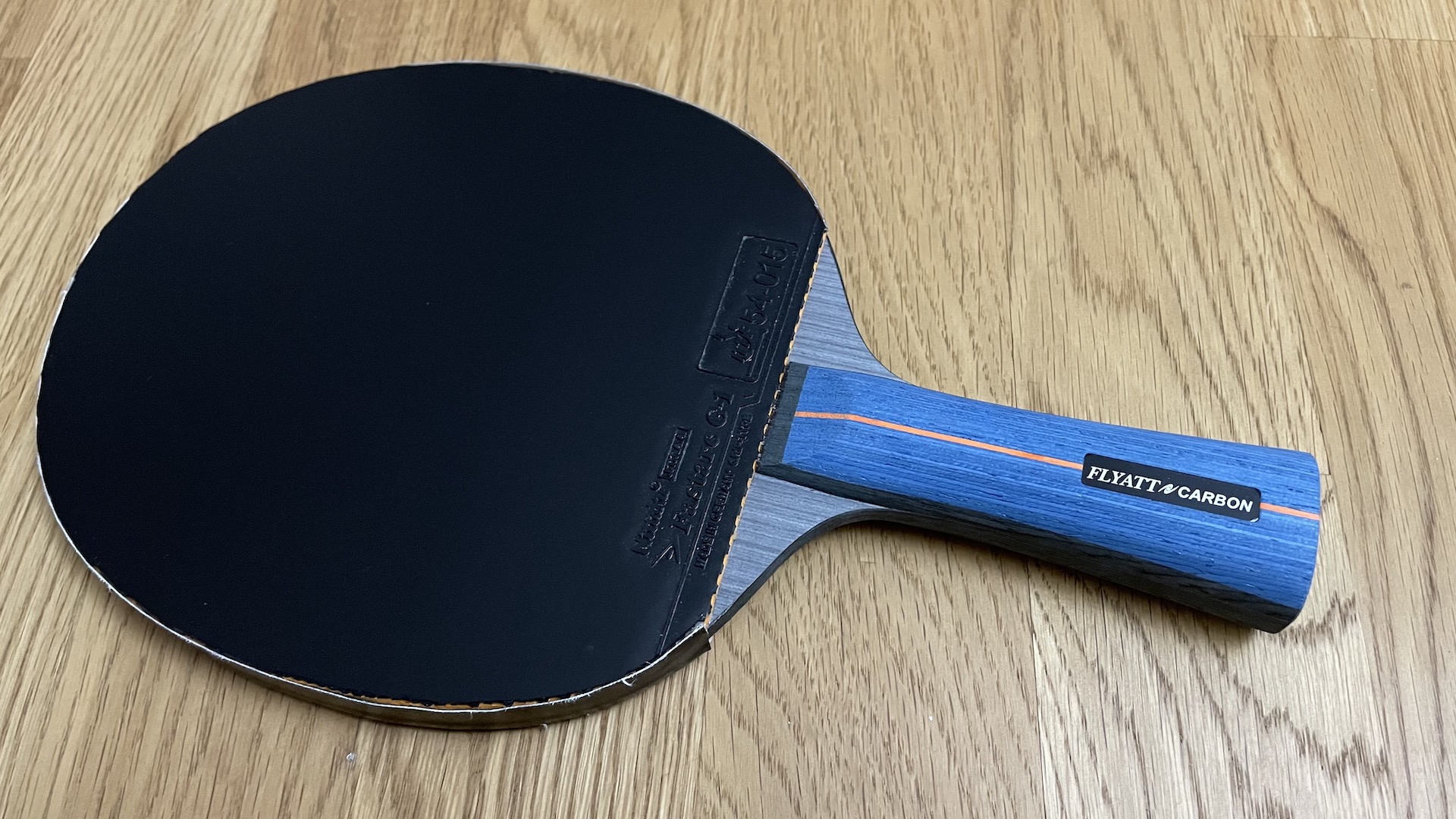 Review: Testing the Nittaku Flyatt Carbon
At first glance, the Nittaku Flyatt Carbon looks like an interesting choice for the transition from an 5-ply all wood blade into the world of carbon. We got our hands on this blade and tested it with our favorite rubber Nittaku Fastarc G1 (2.0 mm) on the forehand and Nittaku Hammond (1.8 mm) on the backhand.
Coming in at a 5.8mm thickness, this blade is - thanks to its carbon layers - remarkably lightweight at 80-85g and only marginally thicker than its big brother, the Flyatt Carbon Pro. When putting our rubbers on it, we noticed that the whole racket is maybe a bit too light. Of course it depends on the player if you prefer a light bat or if you need a certain heft to it but in the case of the Nittaku Flyatt Carbon we felt like the whole combination was a bit too light and makes the racket feel a bit cheap when playing. When touching the wood however and looking at the build quality itself, we have to say the blade looks totally fine on this regard. The wood has a good finish to it and we could not find any imperfections like missalignments or protruding splinters.
The size of the blade is 157 x 150mm and the composition of its layers is 5 wood + 2 thin carbon where the carbon is placed directly unter the face veneer of the blade. As these layers are not visible, Nittaku opted to leave a small window at the bottom of the handle so they can be viewed easily: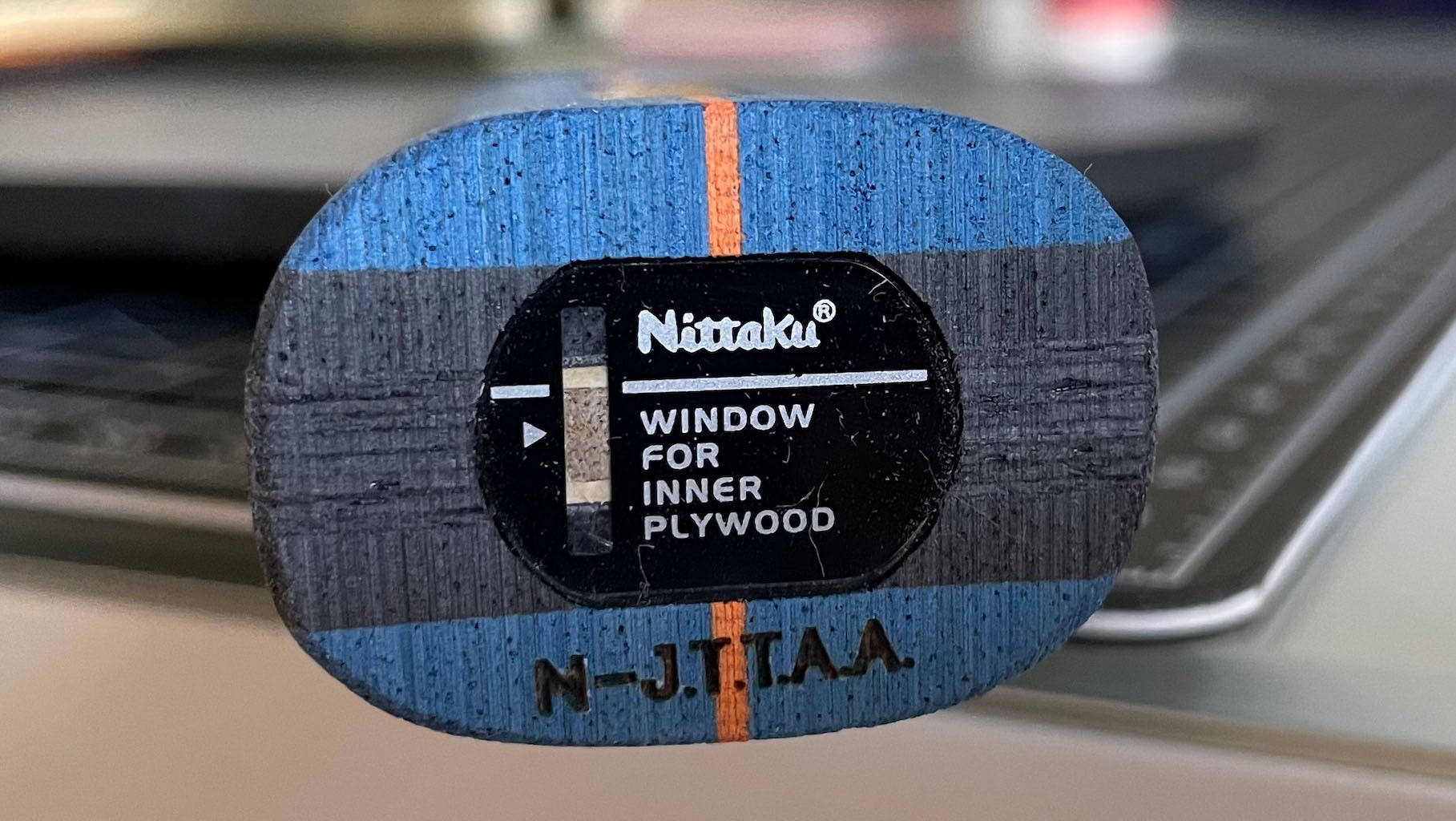 In addition, this blade also comes with a special edge protection layer so it is protected in case you accidently hit the table with your brand new purchase. However, looking at this protective layer, it appears to be a quite thin, which is good to not have a huge negative impact on its playing characteristics, but we cannot really tell if this extra layer adds a lot of protection. For reference, have a look at the picture down below.
For a carbon-based product, the Flyatt Carbon blade has a remarkably soft feel to it so it's not as rock-hard as many other carbon based rackets. When playing, we barely noticed that it has carbon built into it. The ball did not bounce off very fast and control was quite good. This however also means that it was not possible to generate a lot of speed with the Flyatt Carbon. In order to create a fast ball, we really had to hit it with lots of momentum which made it difficult to get the ball on the table but when doing light to medium hard strokes, the Flyatt Carbon was quite reliable and delivered on what we expected it to do.
A weird sound
Something we immediately noticed when playing this blade was the very loud and unusual sound that this blade had. Everytime the ball hit the racket, it made a very loud sound as if the blade was hollow inside. It sounded a bit cheap and combined with the extremely light weight we didn't get a lot of premium feel from this blade. Also, when hitting the ball hard, we noticed that the Flyatt Carbon created a lot of vibration. Some may like this, others don't but we felt like this was especially noticeable when blocking fast balls from our opponents. So, if you're the type of player who prefers a more dull feeling of the blade, then this one is probably not for you. Summing up the playing characteristics, we didn't expect that much from this $50 blade but sound, weight and vibration are definitely something you need to get used to when using the Flyatt Carbon.
Overall thoughts
Given the low price point of only $50 the Nittaku Flyatt Carbon might look like an interesting entry into the world of carbon-based blades especially if you're currently using an all-wood blade. However, after using it for quite some time we came to the conclusion that it did not meet our expectations. Speed and control are very comparable to most 5-ply blades without carbon but these often simply feel a bit sturdier and higher quality as they have a little more weight to them. At the same time we didn't feel any benefit of the added carbon neither in terms of speed or spin. Overall, we believe that you'd probably be better off with something like a Yasaka Sweden Extra which delivers the same performance but has better wood composition and better sound for a lower price of only $35. If you really want to use a carbon-based blade we recommend to either step up to the Nittaku Flyatt Carbon Pro ($75) which has a much better sound and higher quality feel to it but lacks control as this blade is a lot faster and stiffer then its little brother. As another alternative we can also recommend the Yasaka Ma Lin Carbon which can also be found at around $50 and sits somewhere in between the Flyatt Carbon and the Flyatt Carbon Pro.
Facts
Style: Allround
Layers: 5 (wood) + 2 (thin carbon)
Medium stiffness and hardness
Size: 157 x 150 mm
Thickness: 5.8 mm
Weight: 80-85g
Price: ~$50
Alternative blades:
Yasaka Sweden Extra ($35)
Similar speed and control but better sound and quality for a lower price.


Yasaka Ma Lin Carbon ($50)
Carbon-based but neither too hard nor too soft at a similar price point.


Nittaku Flyatt Carbon PRO ($75)
Much better sound and less vibration compared to the normal Flyatt Carbon but a lot faster and stiffer at the same time and therefore harder to control.
---
What other players say about Nittaku Flyatt Carbon ...
Lavasurfer22
This was my very first pro level blade. I still have it after 6 years of playing with it (and others). I have used Nittaku Flyatt Hard 2.0, DHS Skyline T2 NEO, and I Currently have Nittaku Fastarc G1 on it. Don't use DHS. Even though this was the one I started with, it is probably my 2nd favorite out of 18 that I have purchased. This blade is great for a variety of playing levels, which makes this a great buy for someone who is looking to begin table tennis with the intention to stay at it for many years!
Source: Revspin review
Herocoder
Beginner/Intermediate Player, Setup: Flyatt Caron Blade + Tibhar Nimbus Soft 1.8mm FH , 2.0mm BH. This blade was wow ever since I stuck my rubbers on them. The control and the feeling it gives is amazing. They blade is typically fast and noticeably Light weight thanks to the carbon Layers (would rate a 8.5) but still so much control and feeling (9.3 rating) that I have much more confidence to go for my offensive shots as I land more of them. It is definitely not a soft blade but coupled with a soft rubber, my loops and topspin drives have so much control and the bite in speed as well. Definitely feels less spinner than the Andro Hexer rubbers I was using on my previous setup. I might try faster rubbers in the near future as well. But this blade is definitely a keeper. It is a buy you will never regret.
Source: Revspin review
Christos
It has a really good control, especially if you play close to the table, you can send the ball exactly where you want with an easy block. The problem is that you cannot attack with this blade since it is quite slow.
Source: Tabletennis11 shop review
Ryan
Really nice bat if you are moving from say a wood bat like a Yasaka Extra and are looking to try a carbon bat. Very comfortable handle. This bat made me want to look into Nittaku's higher end bats like the Acoustic carbon.
Source: Tabletennis11 shop review
Shiv Shankar
This blade is surprisingly light with a lot of control for the speed it is capable of generating, thanks to the carbon layer!! Even Defensive play is quite consistent with a slower standard rubber like mark v . Ideal for looping and allround power play leaning on the aggressive. Match it with the right rubber for your game and you will be plenty surprised how good this blade is. Thoroughly recommended and enjoyed this blade.
Source: Tabletennis11 shop review
---